On November 22, 1858, General William Larimer, a land speculator from eastern Kansas, placed cottonwood logs to stake a claim on the bluff overlooking the confluence of the South Platte River and Cherry Creek, across the creek from the existing mining settlement of Auraria, and on the site of the existing townsite of St. Charles. Larimer named the town site Denver City to curry favor with Kansas Territorial Governor James W. Denver.[17] Larimer hoped that the town's name would help make it the county seat of Arapaho County, but unknown to him Governor Denver had already resigned from office. The location was accessible to existing trails and was across the South Platte River from the site of seasonal encampments of the Cheyenne and Arapaho. The site of these first towns is now the site of Confluence Park in downtown Denver. Larimer, along with associates in the St. Charles City Land Company, sold parcels in the town to merchants and miners, with the intention of creating a major city that would cater to new emigrants. Denver City was a frontier town, with an economy based on servicing local miners with gambling, saloons, livestock and goods trading. In the early years, land parcels were often traded for grubstakes or gambled away by miners in Auraria.[17] In May 1859, Denver City residents donated 53 lots to the Leavenworth & Pike's Peak Express in order to secure the region's first overland wagon road route. Offering daily service for "passengers, mail, freight, and gold," the Express reached Denver on a trail that trimmed westward travel time from twelve days to six. In 1863, Western Union furthered Denver's dominance of the region by choosing the city for its regional terminus.
Denver is located in the center of the Front Range Urban Corridor, between the Rocky Mountains to the west and the High Plains to the east. According to the United States Census Bureau the city has an area of 154.9 square miles (401.2 km2), of which 1.6 square miles (4.1 km2), or 1.03%, is water. The City and County of Denver is surrounded by only three other counties: Adams County to the north and east, Arapahoe County to the south and east, and Jefferson County to the west.
[edit] ClimateDenver lies within the semi-arid, continental climate zone (Köppen climate classification BSk)[30] with four distinct seasons and generally low annual precipitation. Summers are hot and generally dry, with occasional afternoon thunderstorms. Winters are generally cool but can see sharp cold snaps; frequent periods of snow can alternate with periods of warmth, which result from warming downslope chinook winds. Due to its inland location on the High Plains, at the foot of the Rocky Mountains, weather patterns in Denver are subject to rapid, volatile changes. Annual precipitation is 15.8 inches (401 mm). The first snowfall of the season generally occurs around October 8, and the last snowfall is about April 27, averaging 61 inches (155 cm) of seasonal accumulation, but the median is usually less than that. Extreme snowstorms and/or blizzards are rare (usually only occurring every 3–4 years). Also due to the high altitude, as well as the dry and sunny climate of the area, snow usually melts very quickly. With 300 days of sunshine per year, and 3100 hours of sunshine, or 69% of the possible total, the city's climate is very sunny, even when compared to many American cities.
Temperatures of below 0 °F (−18 °C) occur on an average 7–8 nights per year, while there are usually at least 35 days or more that reach 90 °F (32 °C).
The coldest temperature ever recorded in Denver was recorded on January 9, 1875 at −29 °F (−34 °C), though the last time Denver recorded a temperature below −20 °F (−29 °C) was in December 1990, when the low temperature was −25 °F (−32 °C).[33] The highest temperature ever recorded in Denver is 105 °F (41 °C) (National Weather Service).
The City and County of Denver has defined 80 official neighborhoods that the city and community groups use for planning and administration. Although the city's delineation of the neighborhood boundaries is somewhat arbitrary, it corresponds roughly to the definitions used by residents. These "neighborhoods" should not be confused with cities or suburbs, which are separate entities within the metro area.
These neighborhoods' character vary significantly from each other and include everything from large skyscrapers to turn of the twentieth century houses to modern, suburban style developments. Generally, the neighborhoods closest to the city center are denser, older and contain more brick building material. Many neighborhoods away from the city center were developed after World War II, and are built with more modern materials and style. Some of the neighborhoods even farther from the city center, or recently redeveloped parcels anywhere in the city have either very suburban characteristics or are new urbanist developments that attempt to recreate the feel of older neighborhoods. Most neighborhoods contain parks or other features that are the focal point for the neighborhood.
Denver also has a number of neighborhoods not reflected in the administrative boundaries. Sometimes, these neighborhoods reflect the way people in an area identify themselves; sometimes, they reflect how others, such as real estate developers, have defined those areas.
Well-known neighborhoods include the historic and trendy LoDo (short for "Lower Downtown"), part of the city's Union Station neighborhood; Capitol Hill, Baker Historic District, South City Park/Greektown, Highland, Cherry Creek, Washington Park, Lowry; Uptown, part of the North Capitol Hill neighborhood; Curtis Park, part of the Five Points neighborhood; Alamo Placita, the northern part of the Speer neighborhood; Park Hill, a successful example of intentional racial integration;[36] and Golden Triangle, in the Civic Center.
denver
denver
denver
denver
Denver International Airport (IATA: DEN, ICAO: KDEN), commonly known as DIA, serves as the primary airport for a large region surrounding Denver. DIA is located 18.6 miles (30 km) east-northeast of the Colorado State Capitol. DIA is the tenth busiest airport in the world and ranks fourth in the United States, with 51,245,334 passengers passing through it in 2008.[77] It covers more than 53 square miles (137.3 km2), making it the largest airport by land area in the United States and larger than the island of Manhattan.[78][79] Denver serves as a major hub for United Airlines, is the headquarters for Frontier Airlines, and is the fastest-growing focus city for Southwest Airlines.
Three general aviation airports serve the Denver area. Rocky Mountain Metropolitan Airport (KBJC) is 13.7 miles (22 km) north-northwest, Centennial Airport (KAPA) is 13.7 miles (22 km) south-southeast, and Front Range Airport (KFTG) is located 23.7 miles (38 km) east of the state capitol.
In the past, Denver has been home to several other airports that are no longer operational. Stapleton International Airport was closed in 1995 when it was replaced by DIA. Lowry Air Force Base was a military flight training facility that ceased flight operations in 1966, with the base finally being closed in 1994. It is currently being used for residential purposes. Buckley Air Force Base, a former Air National Guard base is currently the only military facility in the Denver-Metro area.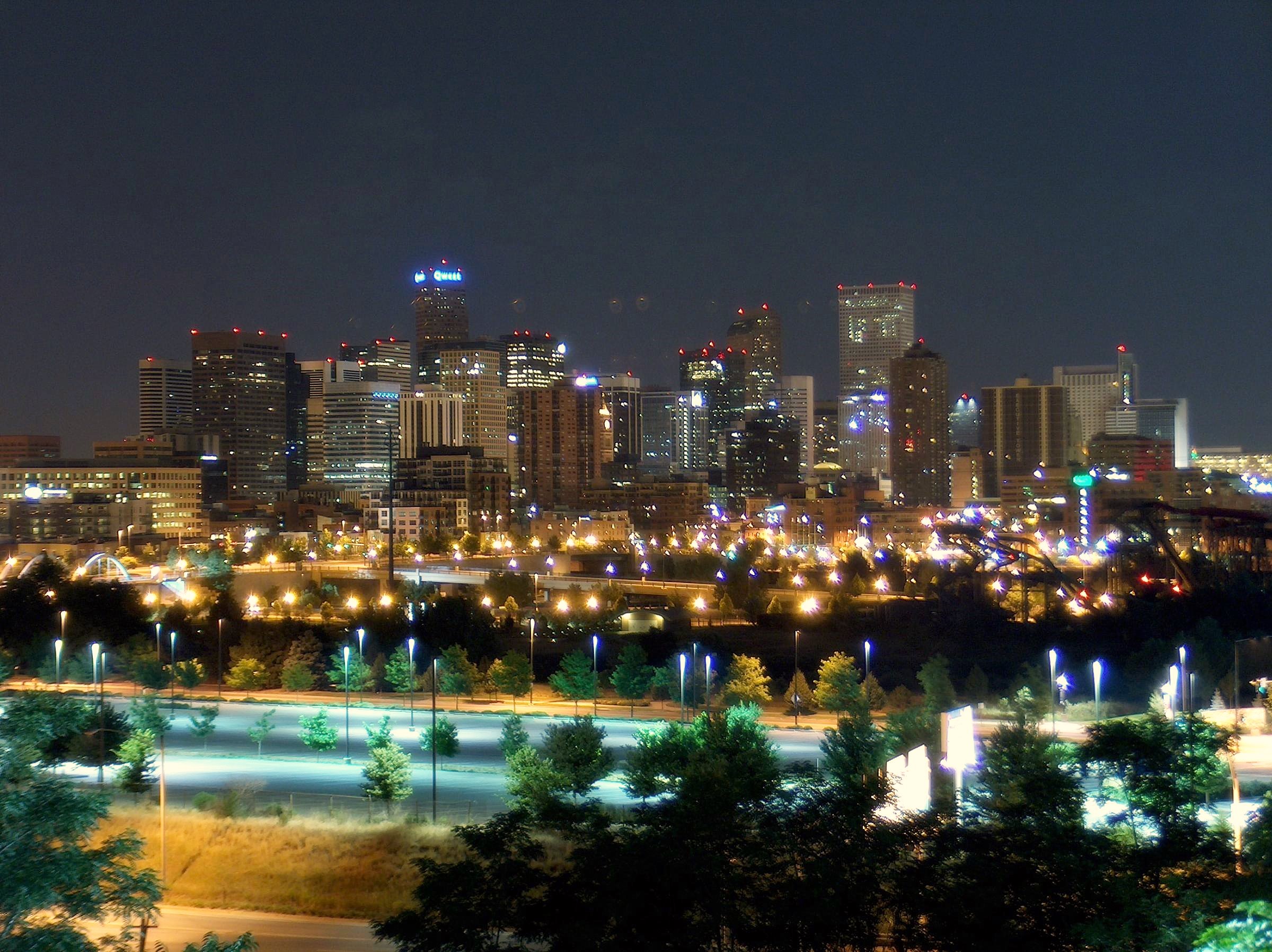 Denver is a consolidated city-county with a mayor elected on a nonpartisan ballot, a 13-member city council and an auditor. The Denver City Council is elected from 11 districts with two at-large council-members and is responsible for passing and changing all laws, resolutions, and ordinances, usually after a public hearing. They can also call for misconduct investigations of Denver's departmental officials.
Denver has a strong mayor/weak city council government. The mayor can approve or veto any ordinances or resolutions approved by the council, makes sure all contracts with the city are kept and performed, signs all bonds and contracts, is responsible for the city budget, and can appoint people to various city departments, organizations, and commissions. However, the council can override the mayor's veto with a nine out of thirteen member vote, and the city budget must be approved and can be changed by a simple majority vote of the council. The auditor checks all expenditures and may refuse to allow specific ones, usually based on financial reasons.
All elected officials have four-year terms, with a maximum of three terms. While Denver elections are non-partisan, Democrats have long held a majority sway on Denver politics with most officials elected citywide having Democratic Party affiliation. In federal elections, Denverites also tend to vote for Democratic candidates, voting for the Democratic Presidential nominee in every election since 1960 (excluding 1980 and 1972). The office of Denver's Mayor has been occupied by a Democrat since the municipal general election of 1963, including the current mayor, Guillermo (Bill) V. Vidal. Denver is represented at the federal level by congresswoman Diana DeGette, a Democrat representing Colorado's 1st congressional district, which includes all of Denver and parts of Arapahoe County.
Benjamin F. Stapleton was the mayor of Denver, Colorado for two periods, the first from 1923–1931 and the second from 1935–1947. Stapleton was responsible for many civic improvements during his term, notably during his second stint as mayor when he had access to funds and manpower from the New Deal. During this time, the park system was considerably expanded and the Civic Center completed. His signature project was the construction of Denver Municipal Airport, which began in 1929 amidst heavy criticism. It was later renamed Stapleton International Airport in his honor. Today, the airport no longer stands, but has been replaced by a neighborhood also named Stapleton. Stapleton Street continues to bear his name.
Denver's economy is based partially on its geographic position and its connection to some of the major transportation systems of the country. Because Denver is the largest city within 500 miles (800 km), it has become a natural location for storage and distribution of goods and services to the Mountain States, Southwest states, as well as all western states. While Denver is a bit closer to the large cities in California, it is practically right in between the large cities of the Midwest such as, Chicago and St. Louis and the large cities of the West Coast such as, Los Angeles and San Diego, another benefit for distribution. Over the years, the city has been home to other large corporations in the central United States, making Denver a key trade point for the country. Several well known companies originated in or have relocated to Denver. William Ainsworth opened the Denver Instrument Company in 1895 to make analytical balances for gold assayers. Its factory is now in Arvada. AIMCO (NYSE: AIV) the largest owner and operator of apartment communities in the United States, with approximately 870 communities comprising nearly 136,000 units in 44 states, is headquartered in Denver, employing approximately 3,500 people. Also Samsonite Corp., the world's largest luggage manufacturer, began in Denver in 1910 as Shwayder Trunk Manufacturing Company but Samsonite closed its NE Denver factory in 2001, and moved its headquarters to Massachusetts after a change of ownership in 2006. The Mountain States Telephone & Telegraph Company, founded in Denver in 1911, is now a part of telecommunications giant Qwest. The Gates Corporation, the world's largest producer of automotive belts and hoses, was established in S. Denver in 1919. Russell Stover Candies Inc. made its first chocolate candy in Denver in 1923, but moved to Kansas City in 1969. The Wright & McGill Company has been making its Eagle Claw brand of fishing gear in NE Denver since 1925. The original Frontier Airlines began operations at Denver's old Stapleton International Airport in 1950. Frontier was reincarnated at DIA in 1994. Scott's Liquid Gold, Inc., has been making furniture polish in Denver since 1954. Village Inn restaurants began as a single pancake house in Denver in 1958. Big O Tires, LLC, of Centennial opened its first franchise in 1962 in Denver. The Shane Company sold its first diamond jewelry in 1971 in Denver. Johns Manville Corp., a manufacturer of insulation and roofing products, relocated its headquarters to Denver from New York in 1972. CH2M HILL Inc., an engineering and construction firm, relocated from Oregon to the Denver Technological Center in 1980. The Ball Corp. sold its glass business in Indiana in the 1990s and moved to suburban Broomfield. Ball has several operations in greater Denver. Molson Coors Brewing Company established its U.S. headquarters in Denver in 2005. Its subsidiary and regional wholesale distributor, Coors Distributing Company, is in NW Denver. The Newmont Mining Corporation, the largest gold producer in North America and one of the largest in the world, is headquartered in Denver. Large Denver-area employers that have headquarters elsewhere include Lockheed Martin Corp., United Airlines, Kroger Co. and Xcel Energy, Inc. MapQuest, an online site for maps, directions and business listings, is headquartered in Denver's LODO district.